The Tie Project, days 136 to 144
Time to catch up on what's been happening in the world of ties worn by me, and the shirts underneath those ties. I know you have been on the edges of your seats with anticipation.
Day 136. This is the tie I was trying to find on day 118. I like the combination of the abstract geometrical patterns.
Day 137. I don't really wear pictorial ties anymore, so this outfit has been all but retired, basically, but I felt obliged to include it in the project because I'm a completist.
Day 138. After an outfit I was underenthused about, I pulled out one of my favorites, with black line art over a blue, pink, and gray background on both shirt and tie.
Day 139. Another decade-old (at least) outfit. I believe this tie, and the tie from day 137 above, and the tie from day 142 below, are all from the "Kenny acquisition" (as previously mentioned on day 53).
Day 140. First time for this combination. I thiiiiink Rose bought me this tie, but neither of us can remember now. I thought the designs on the tie looked like leaves or feathers, but the moment Lorinne saw me wearing it, she said, "Kitties!" The white one in particular, without the diamond shape above it, does kinda look like a cat sitting down, seen from behind.
Day 141. Another lovely tie in the Rooster vein, made for me by the lovely Rose.
Day 142. I adore this tie. Blue and periwinkle cave paintings, sort of looking like a school filmstrip? It fills me with love. I think this was the tie that really drove the "Kenny acquisition". The shirt may look familiar, because I've worn the same pattern in a different color scheme (on day 109). I bought both shirts at the Garment District in Boston, although months apart, oddly enough. Longtime readers will know how much it entertains me to have the same article of clothing in two different colorways.
Day 143. I just wore this shirt in the last Tie Project post (day 135), but I spotted this new combination and was feeling too impatient to wait longer to wear it.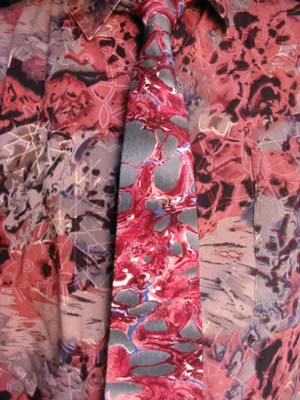 Day 144. Shirt from Daffy's, tie from somewhere. It's not all that similar, really, but this outfit reminds me of Boccioni's "Development of a Bottle in Space" for some reason.
Next time: the most shocking installment of the Tie Project ever!!!
Posted by Francis at 02:27 PM in Ties