« Knitting will keep you warm | Main | Yikes, where did all that time go? »
December 15, 2004
Anatomically correct
Daniel sent me a link to use on the blog, then said, "But maybe not." Clearly this was a dare. This entry is the response to that dare.
There are plenty of patterns for knitted dolls; I even knitted a little avatar for myself from a pattern in Interweave Knits:
I've never seen an anatomically correct knitted doll, but I hope a fearless reader will send in a photo or a link. In the meantime, I've found lots of knitted naughty bits -- these will have to do for now!
Here are some breasts: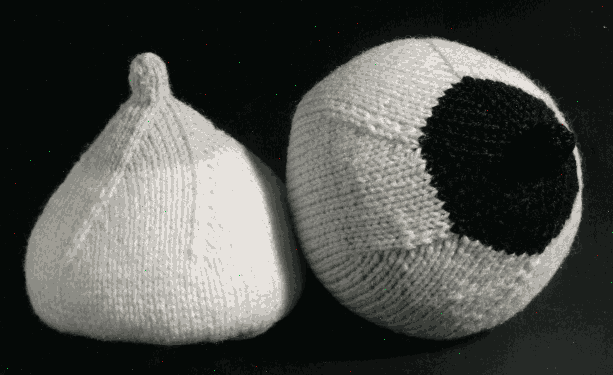 And here are some more:
These are intended for use as breastfeeding educational aids, though I don't know why a woman who is going to be breastfeeding soon wouldn't just lift her blouse for instructional assistance from her breastfeeding coach. Here's a link for
where you can buy some if you can't figure out how to knit them.
I wouldn't have thought the uterus would be such a fertile source of inspiration for knitting, but there are two patterns, entirely different from each other, for knitted uteri. The first one I saw was a childbirth instructional tool. (That link leads you to a site that sells them.) You needn't buy one, though, you could knit one yourself.
The pattern page, intended for doulas and midwives, informs us that:

When [this uterus is] combined with a baby and a pelvis, topics such as cesarean, posterior presentation, dystocia and more can be discussed.
I don't think "posterior presentation" is considered positive in this context.
This winter's issue of Knitty has a much cuter take on the knitted uterus.
Don't you just want to squeeze it? The author was inspired by her love of Blythe dolls to create a "cute, cuddly uterus doll." She also warns:
It's not completely anatomically accurate. I've taken a few liberties with the general shape and scale, as well as leaving out the ligaments connected to the ovaries. And, of course, the human uterus is not normally bubblegum pink.
Who could mind, though, when the result is so freakin' adorable?
We come now to the image that started this knitted Gray's Anatomy. The crocheted vagina. Perhaps the artist came up with the idea because she thought the pun was funny? Her website is called Crochet My Crotch. She does special orders, but I don't know if you can send in a photo to match details.
How could I not link to this?
Lest the boys feel left out, I've even got a couple of lovelies for them.
The first is a pattern for a knitted penis, with "realistic" cabled veins.
Blogger Queer Joe brings us a pattern for that often joked about, but less often knitted, piece of knitwear: the willie warmer. Here is the awesome photographic proof.
This concludes our tour of knitted naughties; I welcome additions to this gallery, so send along anything you know about that belongs!
Posted by Rose at December 15, 2004 09:30 PM
Comments
I don't have anything to share, but I had to comment that the blue boob looks rather Groveresque.
OK, I also can't tell from the photo whether the crocheted vagina is thoroughly anatomically correct.
Posted by: Em at December 16, 2004 07:54 AM
THAT made my afternoon! What a funny collection of pictures! The dolls I made for my two kids didn't even have mouths let alone "parts."
Posted by: elaine at December 17, 2004 04:41 PM
Just don't make that Willie Warmer out of an itchy wool!
Posted by: LarryB at December 17, 2004 05:24 PM
Saw the uterus at knitty.com and laughed my butt off.
Posted by: Heather at December 22, 2004 04:10 PM
The b/w book looks rather like an overgrown stuffed olive-- a comparison which I don't believe has been made previously. I commend Daniel for the dare and you for taking it. DD is making the boobie scarf from Knitty. Where are we going to find the patterns for these? Hmmm? DH would love some extras for his desk, I sould think. Happy New Year.
Posted by: Dana at December 27, 2004 11:14 PM
There is a crochet willie warmer by potwench, has some pics, a search will find it or marthac.inreach (stargazer). There is also a boobie pillow, marthac should have a link to that too. Both patterns are great.
Posted by: JohnG at January 6, 2005 01:52 AM
Do you have the reference for the Interweave issue with the doll pattern?
thanks,
knj
Posted by: knj at January 17, 2005 11:26 PM
do you happen to have a crocheted version of any of these projects?
Posted by: Amanda at January 21, 2005 10:26 PM
Hello everyone! My comment is more of a question and the little uterus was so cute. Can anyone tell me the name or order number of a crotcheting video or dvd. I think this would be much easier for me and my aunts to follow.
Thanks so much.
Posted by: rosalind at January 23, 2005 01:30 PM
Hi! I just knitted up the cute uterus from Knitty--you can find it on knitty.com under the pattern section. It's called "womb". It is so funny. I've been trying to get pregnant for 2 years and have had 4 miscarriages...it just seemed so appropriate! I'm going to knit up a uterus for my infertility doctor as well for a good laugh. Hope this helps!
Posted by: Krishawn at February 11, 2005 11:01 PM
hi
does anyone have a pattern for a willy warmer? directions needed thnakyou
Posted by: lidia at February 16, 2005 03:43 AM
Does anyone have the pattern for the knitted breast please as I want to knit some for ed tools for new mid unit?
Posted by: Kathy at March 4, 2005 02:57 AM
I'm looking for the breast pattern too. Need some for my CBE classes.
Posted by: melanie at March 13, 2005 12:02 PM
this is perfect! in my circles, people like making the "knit condom" joke. I can just redirect them here now!
Posted by: becca at March 13, 2005 07:02 PM
dammit, i really need that knitted penis link to work, but it wont! can someone please help asap! i really need to make some dodgy things for my art degree you see...and a knitted penis would be perfect! ive taken the info for the womb although knitting in the round is a little beyond me...! but if anyone could get me a pattern for a 'realistic' penis that would be SPLENDID! fantastic patterns guys, thanks!
Posted by: sarah at March 22, 2005 03:47 PM
I have found my home! I love it here! A knitted uterus on a piano is the best thing that's ever happened. I'm happy now.
Posted by: Betty at April 4, 2005 08:56 AM
there are 2 willie warmer crochet patterns at this site: http://www.dangliebits.com/cwillie.html
also links to a visual diagram AND photos showing construction.

Posted by: uco at May 6, 2005 09:43 PM
I'm interested in a link to the doll pattern or to find out which issue it's in as well. Thanks!
Posted by: christa at June 20, 2005 11:02 PM
I followed a link here and these examples are absolutely fantastic! I think my crochet hook and knitting needles will come in very useful now ...

Posted by: Elaine at July 31, 2005 05:28 AM
I am a third for that knitted breast pattern!!
Posted by: Jennifer Cabrera at August 15, 2005 10:29 PM
That willy warmer thing is funny, I want one. Cept I'd call it a cock sock. Or a man hood. Or a snake trap. Feed bag. Dick slicks. Ah, genital slang, an endless source of amusement.
Posted by: Queso at November 12, 2005 02:15 PM
I am trying to find a copy of the doll pattern --Please let me know what issue I can get it from.
Thanks.

Posted by: Heather at February 16, 2006 11:19 AM
Would very much like the breast pattern for educational purposes.
Posted by: Alice at April 1, 2006 04:01 AM
I am knitting the breasts for a sure start unit, have been asked to start a new batch but have lost the pattern some where! urgently need to find one. I need the one with small and large breast on the front with a flower in the background. Please can anyone help!
Posted by: natalie at April 1, 2006 03:15 PM
It isn't knit, but I found these anatomically correct dolls to be pretty funny...
Posted by: Kairuka at April 5, 2006 01:13 AM
I'm making a crocheted breast model for a breastfeeding class, and will send a link for the pattern when I can to my website, www.mesamismyfriends.blogspot.com.
Posted by: Terry (ninjaknitter) at April 28, 2006 04:14 PM
WOW! These are all great! I just discovered the patterns for all of the Willie Warmers today and showed them to my sweetheart! Subsequently, we will be going yarn feeling this weekend! Has anyone felt 100% Bamboo yarn - it has an incredible smoothness that i can't compare to anything! I think a bamboo yarn Willie Warmer is soon to be in the works! Thank you so much for all of this - it's inspiring and fun! :)
Posted by: Tara at June 30, 2006 01:22 AM
I am searching for crocheted patterns of penis warmers. Thank you
Posted by: Renee Scott at July 14, 2006 10:31 AM
I am a student midwife and would like to knit some breasts to use as teaching aids for breast feeding. Where can I find a pattern?
Posted by: Karen Harvey at October 19, 2006 05:30 PM
Does anyone have a crochet pattern for the crocheted crotch? I would love to make some of these as gag gifts for my family and friends for christmas!
Posted by: Misty Morse at November 30, 2006 10:14 PM
Are there patterns for any of these??? I especially would like the penis for my girlfriends bridal shower... Now that will make a great gag gift during the White Elephant gift exchange. LOL
Posted by: Trice at December 16, 2006 10:42 PM
where do you get the pattern for willy warmer?
H
Posted by: helen at January 12, 2007 12:09 AM
ahaha I agree do not make the willey warmer out of itchy wool bahahaha
Posted by: renee at January 15, 2007 02:11 AM
These are awesome, I am glad someone is taking the leap from making cheesy over-done home goods to more interesting things. I found a few knitted lingerie pattern books, but alas, I'm a crocheter, would anyone know where I could find some sexy crochet-wear?
Posted by: Kayleigh at January 21, 2007 09:19 PM
lol @ willy warmer. Looks like thats for a 5 incher.
Posted by: Country Lady at January 30, 2007 04:50 PM
I know this is an old post, but in case you're still interested, I've just posted a pattern for a Little Nekkid Man (complete with little nekkid manparts) on Livejournal.
Posted by: Kate at January 31, 2007 11:06 AM
Hi I would like a pattern for a knitted willy warmer
Thanks Pat
Posted by: Patricia at January 31, 2007 11:36 AM
Knitted breasts:
Please see the website of Lactation Consultants of Great Britain for a pattern for knitted breasts.
Alison
IBCLC and midwife
Posted by: Alison Blenkinsop at February 8, 2007 05:57 PM
http://www.lcgb.org/knittedbreastpattern.pdf has a pattern for making knitted teaching breasts - I confess that I don't know how to knit so am not sure how good a pattern it is, but I'm sure that those who do know how to knit will be able to tell!
Posted by: Gillian Arsenault at February 15, 2007 11:14 AM
I would love to have these patterns. I am a childbirth educator and they are great teaching aids. Thanks much - Oh - I loved the site.
Carol C. Colorado Springs
Posted by: Carol at February 17, 2007 10:40 PM
heres a link to a free downloadable knitted breast pattern!
debs - stewart703@btinternet.com
http://www.lcgb.org/
Posted by: deborah stewart at February 23, 2007 03:54 PM
this tops the cake!!! An entire family in naked Knitted Suits!!!!
http://merinas.blogspot.com/2005/05/tricot-ol-ol.html
oh an found the breast pattern : www.lcgb.org/knittedbreastpattern.pdf

Posted by: Lynn at March 27, 2007 04:35 PM
Do you happen to still have the pattern for the doll or know what is was called. I can't seem to find it in any back issues of Interweave Knits. Love all the pics!
Posted by: Megs at March 27, 2007 06:00 PM
Hi, I just wanted to add a URL to your great collection, I hope that's okay, thematically it fits perfectly.
http://www.yoni.com/
Posted by: Svarup at August 22, 2007 03:02 AM
Please oh please oh please, someone give me a good link to a willie warmer pattern. The one's I've tried are all dead. Desperately need to find this for a gift for my bff.
Thx,
Lisa
Posted by: Lisa at January 4, 2008 02:17 AM
hi my gf is haveing a hysterectomy next week and id like to send her a knitted uterus like the one on the piano..could you please send me the link to find the pattern......thanks again.....
Posted by: nicole at February 7, 2009 06:16 PM
Post a comment