The Tie Project, days 151-156
My week of wearing nothing but solid shirts took its toll on both me and Rose ("Where's the man I married???"), so there was a palpable sense of relief when the Tie Project resumed its normal course.
Day 151. Old shirt, new tie. I have historically worn this shirt with the tie worn on day 153 below. Next time, probably.
Day 152. Another old shirt, new tie combination. I used to wear this shirt with one of the sunflower ties -- I liked the color contrast -- but somehow it wasn't working for me anymore. At least not this day. But I was very pleased with this maroon and tan paisley-on-paisley combo.
Day 153. A lot of brownish pairs in a row. I got this shirt at the Salvation Army in Williamsburg. It has a big rip on one of the sleeves which I didn't notice when I bought it, but it turns you can't see the tear when the sleeve's rolled up.
Day 154. Again with the old shirt, new tie thing. You'll see the other tie I wear with this shirt in a few weeks (I'm a bit behind on posting photos), but I think I like this one better. The colors match really well, and I like the way the tie makes the green in the shirt seem more prominent.
Day 155. Yay, another shirt for my maybe-favorite tie! I forget where I got this Hawaiian shirt, but I love it. It's not vintage Hawaiian (the fabric is wrong), but it's way more comfortable than vintage Hawaiian. Mmmmm, sweet sweet rayon.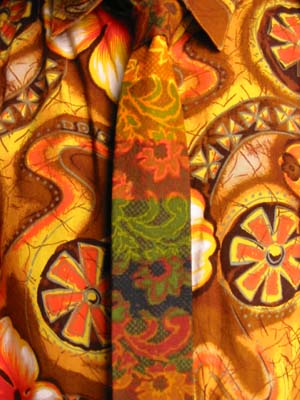 Day 156. A new tie for the shirt from day 115. No way to say which combo I prefer. I love them both!
Next time: The world's skinniest tie.
Posted by Francis at 09:39 AM in Ties