The Tie Project, days 90 to 97, plus one more
Somebody just mailed me a "Self Shot Mirror" to stick to the front of my camera, to aid me in my daily documentary photography. But I don't know who! Thanks, mystery blog reader. On to the outfits.
Day 61.5. Somehow or other I accidentally missed an outfit a month or so back. Well, actually, I know exactly what happened. I photographed myself in the morning, and then Lorinne and I went to the Brooklyn Botanic Garden that afternoon, where I (as usual) took a whole bunch of pictures. Then, later that week, when I went to upload tie photos from the camera, I only noticed the photos that followed the set from the garden. So, here it is -- The Tie Project: The Lost Episode.
Day 90. Had a hell of a time photographing this. The shirt is very soft and floppy, and doesn't really want to hang symmetrically. Comfy, though.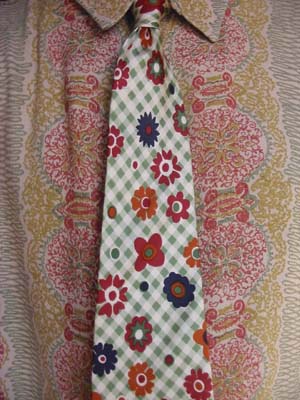 Day 91. I'm pretty sure I didn't realize there were jungle cats in the pattern of this shirt when I bought it. I might not have gotten it if I had noticed, having a certain antipathy towards representationalism on clothing. It's still fairly abstract, though, so it does get worn now and again, and I do like the way it makes this tie pattern seem like potential jungle camouflage.
Day 92. I bought this shirt and tie on the same day from a vendor at the Chelsea Flea Market. I liked the idea of a semiformal (well, maybe more like hemidemisemiformal) Hawaiian outfit. One day I was wearing this combo and I received an extremely enthusiastic compliment about it from a young Orthodox Jewish man. I was surprised, but maybe he was tired of wearing all black all summer long and dreamed of wilder outfits.
Day 93. The first time I've worn either the shirt or the tie. (Both got bought at some point during the cold months.) I swear I ironed the shirt, but side lighting will find the spot you missed every time.
Day 94. This is what I wore for the first night of the crossword tournament. Somewhat sedate, but I like the tie and vest together, with the shirt serving as a color accent.
Day 95. Saturday's outfit at the crossword tournament. Lorinne made the vest for me; isn't it gorgeous? I had some ideas about wearing this patterned shirt or that with it, but none of them quite worked. Then I found the perfect tie and realized the outfit didn't need anything else, so instead I wore it with a plain cream-colored shirt. (I do keep a handful of solid shirts on hand for emergencies.)
Day 96. Sunday's crossword tournament outfit was a repeat, so we skip ahead. This outfit uses the same tie from day 61-and-a-half above. I'm fond of this tie; I like the way the pattern looks like beads. For a while I had no shirts to go with it, but then I found this one, which has echoes of all the colors in the tie. And obviously I've also tried it out with at least one other shirt.
Day 97. An old favorite. The outfit does most of its matching on the pattern level. Colorwise, it's an interesting combination of blending and contrasting.
Kind of a hefty update, I know, but I'm pretty behind. In the next installment: the same shirt twice within four days? What is the world coming to?
Posted by Francis at 01:33 AM in Ties